After being 1-0 down at Half-Time, Chelsea fought back in the second half with two quick goals to gain three points.
Chelsea's first game since the halt in the season was against Aston Villa, and the other results in the Premier League gave us a huge chance to increase the gap. Arsenal and Sheffield United lost, while Manchester United and Spurs drew against each other, with Leicester City also only picking up one point.
Chelsea's fixture list certainly is not the nicest, with the Blues still having to play the likes of Liverpool, Wolves and Sheffield, meaning that we had to take all three points today.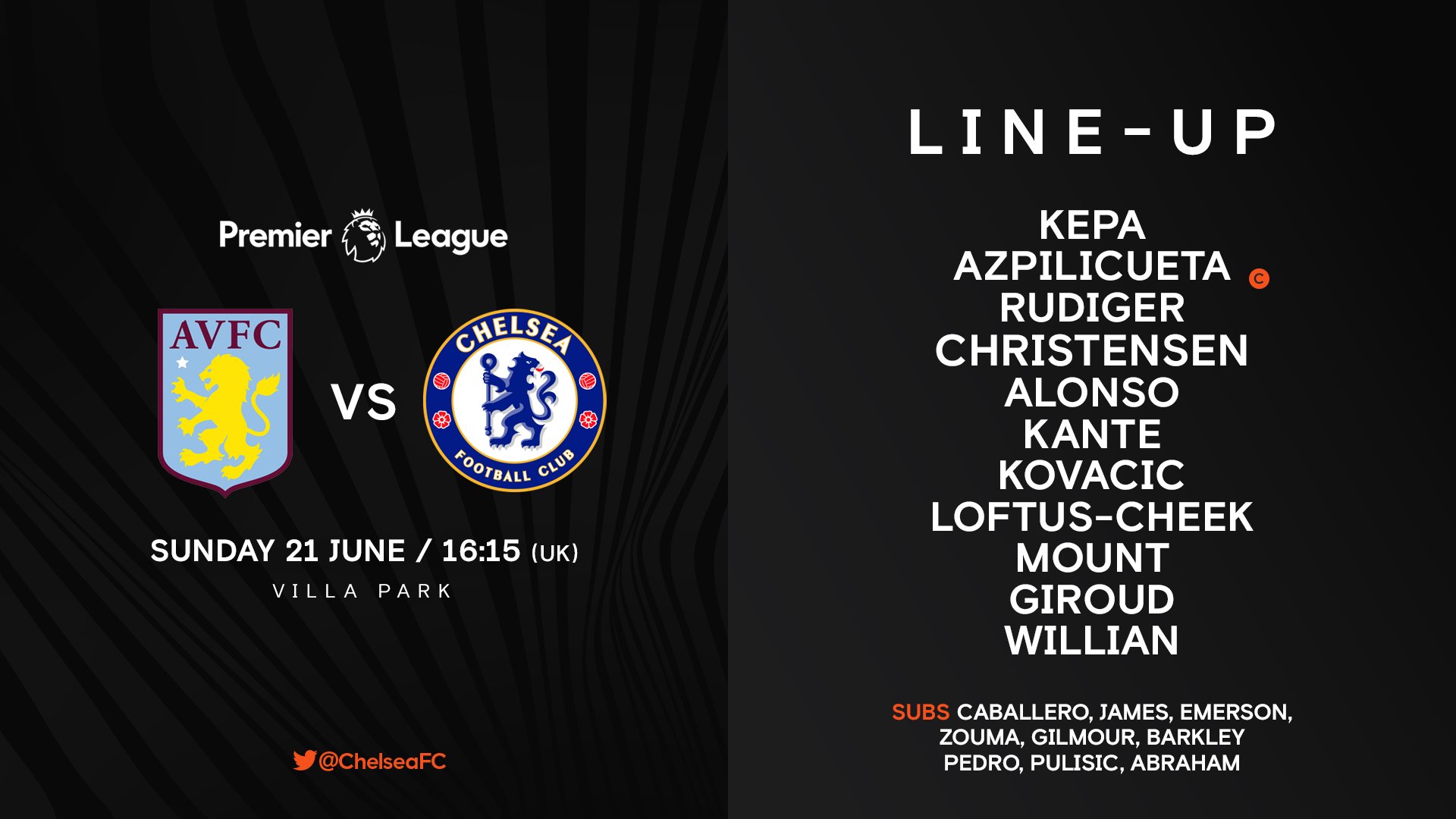 At 3.15pm the lineup was announced, and there certainly were mixed reactions all over social media. Fans were absolutely delighted to see Loftus-Cheek start in what was his first game in over a year, yet the sighting of Pulisic, Giroud, Gilmour and James certainly surprised many supporters.
We also had been hearing that Lampard was trying a new tactic with the 4-3-3 with N'Golo Kante as the holding midfielder, and today's lineup certainly suggested he would be the deepest of all three, with Mateo Kovacic and Mason Mount either side of him.
The first half begun, with everyone in the stadium taking a knee down as part of the #BlackLivesMatter movement in the Premier League. As expected, Chelsea dominated the ball and at a point had 77% possession, but were still unable to put the ball in the back of the net after Aston Villa defended incredibly deep as a block.
Chances were being created, with Mount striking a ball brilliantly from the edge of the box with his left foot forcing a great save, as well as putting in an outstanding ball after a beautiful skill which on another day Loftus-Cheek would have scored. Crosses were being spammed into the box by Willian and Azpilicueta in the first half, but the forwards couldn't get their toes on it or they ended up in Row Z.
Kante was enjoying himself in the new tactic, pinging the ball left right and centre, while Kovacic wasn't able to get that involved in the game. Here's where the statement 'typical Chelsea' comes in play.
Just before half-time, one set piece for Aston Villa, they cross it in, goal. Kepa made a solid save, but was left picking the ball up from the back of the net after there was not a single Chelsea player to react from the initial save, while Hause was left with a simple tap-in. The whole mood was destroyed and the Blues' domination came to a waste, however even at half-time, there was always that hope that Chelsea could get back into the game, something which we rarely see.
Chelsea came out in the second half, with no changes, with some even questioning the in game management. Lampard gave another 10 minutes to Loftus-Cheek and Kovacic, yet both were unable to make any difference in the beginning of the second 45 minutes and were swiftly brought off for Pulisic and Barkley respectfully.
Loftus-Cheek was always going to have a rough game, and Lampard has said this game was more about his 'physicality.' Getting 55 minutes without any problems or injuries is definitely one of the huge positives from today. Kovacic wasn't able to show enough quality which we know he has, and has always struggled playing in the box to box role next to Kante, which is something which perhaps could be looked into later.
The two substitutions changed the game. They brought a bit of flair, pace and movement, which completely threw off the structured Aston Villa team. 5 minutes later, Pulisic scored with his left foot on the half volley after a wonderful cross from Azpilicueta, and from then on the game really was in Chelsea's hand.
Two minutes after our first goal, the ball fell nicely to Giroud who turned and shot with his weak foot, with it ending up in the back of the net via a deflection. From that moment on, Chelsea just had to make sure to defend their lead and always looked comfortable.
Chelsea were back to controlling the ball, and there were a few heart attacks on the way with Rudiger and Christensen having huge lapses of concentration, but Villa were never really a threat in front of goal otherwise. A few mistakes from Reece James almost cost us in the end, but the ball was cleared and the ref blew his final whistle.
Like everyone said before, it doesn't matter how Chelsea were going to get the three points, it just mattered that we did. And Lampard's squad delivered.
Kepa showed glimpses of the 72 million value, Azpilicueta got two assists while Alonso disappointed, Christensen looked solid in the first half but then followed Rudiger in having idiotic moments.
Kante's new role certainly impressed many fans, with Mount being my own Man of the Match after some incredible pressing and work in the #8 role.
Willian also showed a few bright moments, Loftus-Cheek gained fitness, Giroud scored a goal and the American impressed once again from the bench. Lampard's in game management is not to be missed either, who got the second half spot on.
Who was your Man of the Match? Let us know on our social media platforms.
Written by Paree