After a successful transfer window in the summer, it seems Chelsea are yet to slow down with some big plans for their transfer targets going into the new year. The first link is already well known with some additional information, while the second being a high profile player likely to surprise Blues fans but also excite them. Therefore we'll discuss the logistics of each deal, pros and cons of each deal, and end with a conclusion of final thoughts on both deals together.
The story of both targets for Chelsea was originally broken by none other than Sky Sports journalist Angelo Mangiante. He discusses in the tweet below Chelsea's ambition to step up their pursuit for the West Ham captain Declan Rice as well as pursue Dortmund star Erling Braut Haaland.
Declan Rice
Logistics
Beginning with Declan Rice, this target is nothing new to Chelsea fans. It's no secret that Chelsea were heavily linked with the English international all throughout the summer and were hoping to add him along the arsenal of players signed in the previous window. Reports from multiple sources have stated Rice is a top priority if not the highest priority of all targets and rumors have come out that the player is also interested in rejoining his boyhood club.
Although it may seem that both Chelsea and the player want the same thing, the difficulty comes down to striking a deal with West Ham for their highly valued captain. With Declan being an integral part of the team and locker room, the Hammers have placed a high price tag on the player with quotes of even £80m being discussed in reports during the summer window.
Additionally, Rice is known to be a highly professional player who would likely not want to leave on any bad terms with the club, meaning he is unlikely to push for a move himself in January, making the probability of a deal this window unlikely.
However, this does not mean Chelsea won't be looking to sign Rice in future windows as previously stated, so we'll discuss pros and cons of what a deal for the 21-year-old defensive midfielder might look like for Chelsea and their squad.
Pros
Quite a few positives can be discussed in this signing, firstly Rice is an extremely talented player and already considered West Ham's best player at 21 as well as being their captain. He is homegrown, and has multiple seasons of experience in the Premier League with very consistent game time.
He fills the need for a true no.6 at the club since the departure of Nemanja Matić, which could allow N'Golo Kanté to play in a variety of roles in the midfield as we saw under Maurizio Sarri, or in a double pivot alongside Rice. In addition Chelsea being Rice's boyhood club means he is familiar with many of the players already at the club and has a close friend namely in Mason Mount. This, along with already being located in London, should make the transition and settling between the clubs much more seamless in respect to other transfers.
Finally, as aforementioned Rice has proven a strong mentality and leadership quality at such a young age at West Ham being their captain for multiple seasons, and his versatile skill set and quality can allow him to fill a variety of roles, even as depth as a central defender if need be.
Cons
However, there remains a few lingering issues which may accompany the deal that must be addressed. Firstly the price tag is undeniably going to be an issue in negotiating a deal for the player. As we saw in the summer even with the COVID-19 crisis and turmoil at the club, West Ham were still able to hold out for their valuation on the player, meaning he likely will not come cheap.
In addition to the money spent aspect, this could prove to be problematic as we've seen expensive transfers before add pressure to young players before whether it be through the media, or an effect on their own confidence and mentality. This means the board would likely have to exhibit a high degree of certainty in their belief of the player's capabilities and positive influence on the squad.
Finally, Rice would be joining what is an already flooded midfield, and although he fits a niche role it seems no player other than N'Golo Kanté can fit, many players from Chelsea's midfield will likely have to be shipped out to make up some funds and space for the move.
This theme will be further discussed in regard to the second main target Chelsea have been linked with, Erling Braut Haaland.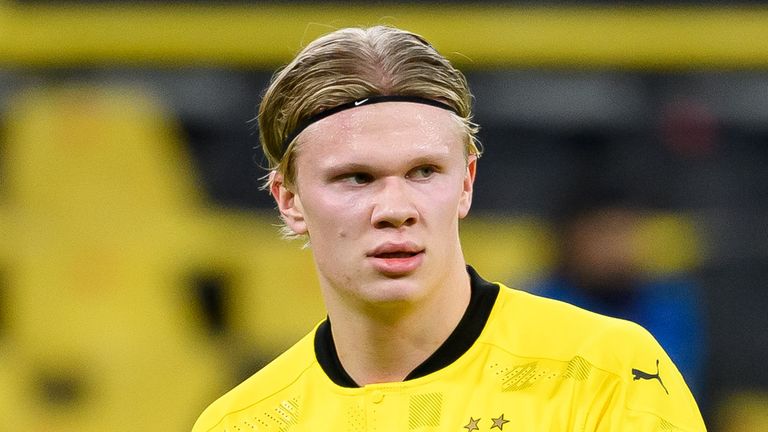 Erling Braut Haaland
Logistics
Haaland is a new link which is indicative of the ambitions of the board and the profile of player they're looking for to progress this Chelsea squad to be a force in all competitions. However, one of the most sought after and talented young strikers in Europe will not be easy to sign and will have many obstacles to overcome in securing a deal.
Firstly, Haaland has stated in interviews before, that in this current moment of time he is not looking to leave Dortmund. Although these kinds of statements often are made even before transfers actually go through, it is likely to complicate negotiations if there isn't a strong desire for the player to leave.
In addition to this, reports from multiple sources such as the Evening Standard, and NBC Sports have reported that although Haaland has a release clause reported to be in the region of €75m, the clause does not kick in until 2022, meaning any deal which could be negotiated before 2022 will have to cost more than this amount.
Finally, the biggest threat that seems to be in Chelsea's way of securing the signature of Haaland is likely to be the attraction from other suitors namely Real Madrid who have been most heavily linked with the Norwegian striker.
The tweet below from the Madrid Zone on twitter discusses the idea of a potential deal in place for the 20-year-old forward to join the Galaticos in the summer of 2020, naming the works of Mino Raiola and influence of Martin Ødegaard.
With these hurdles in the way of signing the Dortmund star, it will be a tall task for Chelsea to accomplish. Nonetheless we'll analyze what pros and cons may come of a deal for Haaland, and how they might effect the the club.
Pros
With a player such as Haaland and what he has shown thus far, it's clear the first positive of signing such a striker would be his talent in scoring goals. He broke out onto the scene last year in spectacular fashion in the Champions League scoring 8 goals in 6 games for Salzburg, and then another 2 in 2 for Dortmund that same year. In addition, he scored 13 in 15 games for Dortmund last season in the league with 2 assists as well. This season he has improved on his form with 18 goal contributions (16 goals and 2 assists) in 12 games in both the league and UCL. This is likely down to his superb striking technique of the ball, as well as his intelligent movement for a striker his age, allowing him get on the end of consistent scoring opportunities and convert them.
Even so, many times top players from top leagues arrive to the Premier League and struggle to adapt to the physical nature of the league especially as a focal point striker. However, in Haaland's case at 6'4 and about 200 pounds, he is likely to not only fare well in this regard but to excel. This is due to not only his size, but his mobility at his size. This combination of size, strength, and mobility is likely to wreak havoc in any league making Haaland a very desirable target.
Finally, with the likely departure of Oliver Giroud in the future, as well as the use of Werner out wide so far under Lampard, it seem the only two main options for a focal striker at Chelsea would be Haaland and Abraham in this scenario.
When a talent such as Haaland becomes available its hard to not pursue such a player not only to benefit a club like Chelsea, but also to prohibit other competitors from signing the player. However, this fill in vacancy also poses a possible negative consequence of such a transfer.
Cons
The first idea to discuss in a potential disruption of the Haaland deal, is what becomes of Tammy Abraham. The English striker is clearly favored under Frank Lampard, however if a big money move were to happen for the Norwegian, it's uncertain if Abraham would retain a first choice position which may unsettle him at the club.
Being 23 years of age, if Haaland were to come in and make the starting role his own, it's possible Tammy looks for a move elsewhere especially if he feels he is able to play for another Premier League side consistently. With the record Chelsea have of letting blossoming academy talent slip away, this may be a serious consideration for the club.
Building on this same theme, Abraham may represent that such a signing for a striker may not even be necessary. In fact, it may show that the money may be wasted signing a striker of Haaland's calibre and could be better spent reinforcing other positions of need for the squad. Furthermore, with the signings of Ziyech, Werner, and Havertz, it's clear Chelsea have already spent a considerable amount bolstering a formidable attack.
With the more urgent needs of a defensive mid, a long-term replacement for Thiago Silva, and added depth at winger and left-back, its possible that the funds used to sign Haaland could be less efficient in improving the overall squad.
Conclusion
Both Rice and Haaland are obviously extremely talented, young, and sought after players whose signings would likely improve the quality of players in the squad. With Rice, the proven ability in the Premier League as well as seamless transition, homegrown status, and desire for the player to join show to be a match made in heaven. However, there is no denying he will likely not come cheap, and a move for him will be most realistic in the summer rather than this window.
With Haaland, it's difficult to pass on the opportunity of signing a generational talent, and some may even say that's what inspired our signing of Kai Havertz rather than a necessity for the player. His goal scoring ability and physical talent is one that will surely continue to impress and a talent every team desires. However, outside of just desire, it seems this signing could be the most difficult Chelsea have ever pulled off both as a result of valuation, and other suitors' desire of the player. Although it looks unlikely or possibly even unnecessary, Chelsea have been in this position before with Werner, Havertz, and Eden Hazard in which they proved to be successful in their pursuit of a player with many suitors. As a result, it would be unwise to count out the West London club in their pursuit of Haaland, and one to look out for in the future.