Well, this match report is going to be painful to write. Chelsea decided to broadcast an U18 League game, something we haven't seen them do in years, so many fans were excited to see some future stars play. But it was a day to completely forget for the Blues, as they were thrashed 6-1 to their London rivals Spurs at Cobham.
The lineup certainly was interesting. Ed Brand made 8 changes to the team, something you can't really blame him for, as it's not like recent weeks have been good for him either. Jude Soonsup-Bell and Harvey Vale were not involved and we expect them to feature in the 23's tomorrow, while Bryan Fiabema and Dion Rankine dropped down from the PL2 squad. Ben Elliot, Charlie Wiggett and Bashir Humphreys were the main names missing from today's squad.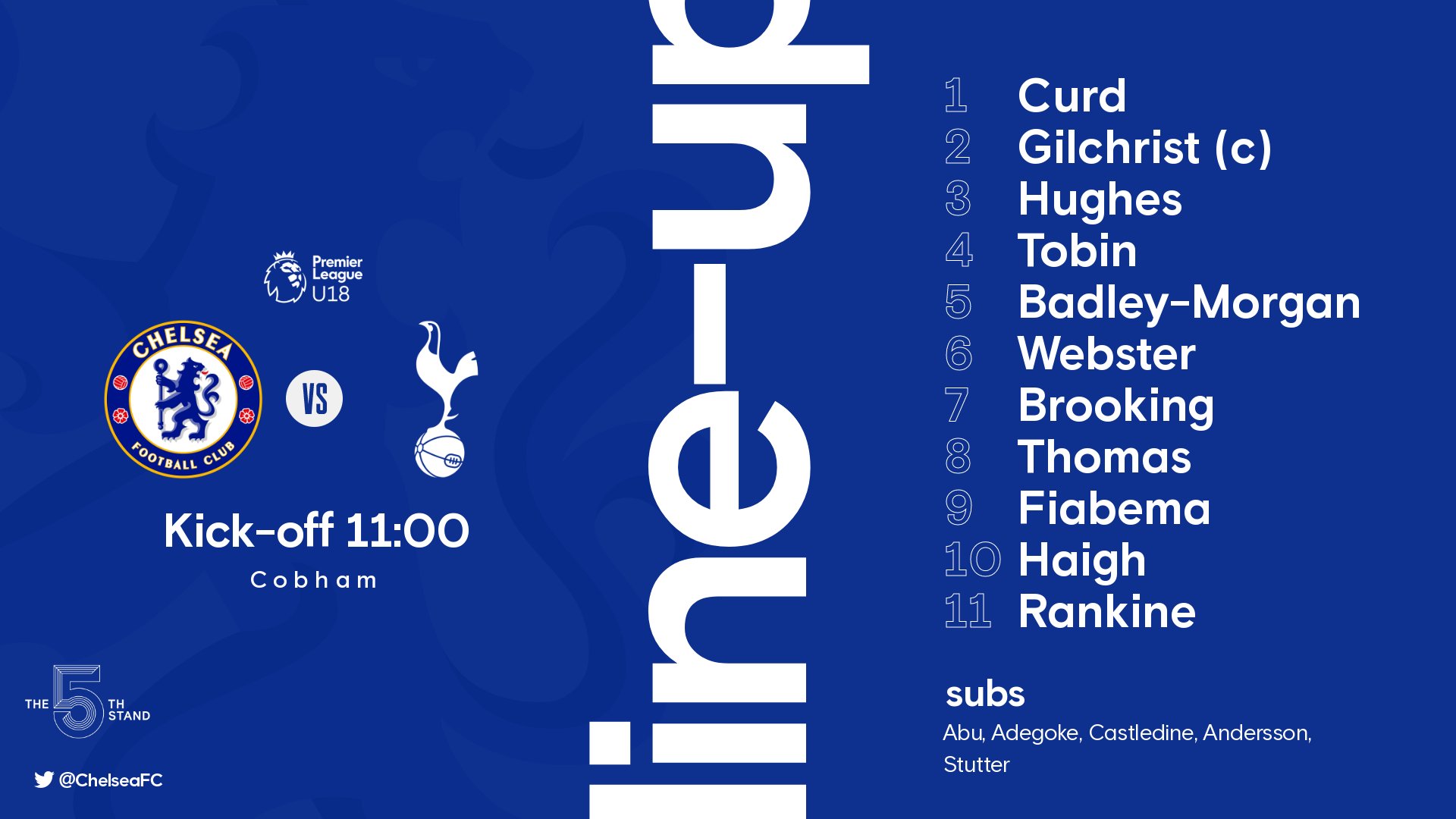 It wasn't a great start, as Chelsea managed to concede inside 6 minutes. Tottenham worked it well down the left hand side, and the overlapping player crossed it into the far post for Lusala to tuck it into the corner, while no Chelsea player picked him up. A few minutes later we tried to bounce back as Fiabema had a shot on the edge of the box, but skied it way over the bar, which pretty much sums up his last few months in Blue as he has struggled to find the back of the net and is clearly lacking confidence.
Not long later Chelsea found themselves 2-0 down, after 2006 born goalkeeper Ted Curd gave the ball to Brodi Hughes under pressure. The defender, who actually had quite a good game, was fouled in his box but somehow the referee didn't give a free kick, and Spurs ended up having a very simple tap-in converted by Scarlett.
Chelsea still had chances after a lovely backheel from Fiabema, but Joe Haigh was unable to find the back of the net and somehow Silko Thomas couldn't score from a few yards out after some wonderful defending from the Lilywhites. Around the 20th minute, Spurs had complete control of the game, and former blue Roshaun Mathurin scored a wonderful free kick just on the edge of our own box to make the scoreline 3-0.
Charlie Webster, a player Chelsea fans should definitely keep an eye on, looked the most comfortable on the ball in the first half for the Blues, as on a couple of occasions he played some lovely lofted balls to Brooking and Rankine, but both were unable to make anything out of their chances.
Before Charlie's ball to Rankine, around the 30th minute mark Josh Tobin lost the ball in an extremely dangerous area and the opposition had a 2v1, but Brodi Hughes made an outstanding tackle and stopped the scoreline from being 4-0.
Not for long though, as straight after half time when you'd hope to see some more fight from the Chelsea team, Tobin gave away a sloppy penalty and they made it 4-0. Now, I'm not going to lie, I went to go and get a drink of water after that goal, and I come back and see the scoreline to be 5-0. So, I don't know how we conceded, but I know we did in a few minutes and the team completely collapsed.
Ed Brand decided to bring on Leo Castledine and Ronnie Stutter, with the former changing the game. He brought energy and quality in midfield, as he picked out a nice pass to Rankine who cut back to Joe Haigh who finished calmly to give Chelsea a consolidation goal. A few minutes later once again Leo put in a beauty of a cross, but Joe was unable to get contact with the ball.
Around the 75th minute, Castledine got fouled but once again it wasn't given, the ball was easily turned over and Mathurin scored a screamer of a goal to get his hat-trick, flicking the ball over two players and finishing sweetly. The game died down from then onwards and it was a very disappointing morning for the Blues.
The last few weeks haven't been easy for the academy, as most of the time the 23s and 18s have played the better football but haven't been able to grind out the results, but today was just embarrassing. When the 23s played Spurs a few months ago we found ourselves 2-0 down, yet we still showed character and desire and managed to make a remarkable comeback and won the game in what was one of the best victories in the PL2 this season. Whereas today, there was absolutely nothing effort wise from most of the boys, and you wouldn't think it was a London Derby.
No doubt, they will come back. After all the Chelsea academy is one of the best in the world, and it's these tough spells which will separate the players with the strong mentality from the players with the weak mentality. But we need to see more effort and desire, and then we all know the quality these guys have. If Tino Anjorin and Billy Gilmour are to play with the 23's even more, we could see the likes of Soonsup-Bell and Harvey Vale feature more for the 18s, hopefully giving them a helping hand through this tough situation.
Chelsea U23s face Brighton tomorrow, and they also will be looking to get back to getting 3 points, something which we haven't seen in a long while. They have played some incredible football at times, but struggled to find the back of the net.
Jude not playing today suggests he'll feature tomorrow, which certainly will help as Fiabema and Nunn have struggled up top. Henry Lawrence should be set for a return after a few weeks out injured, as his cousin revealed to us in an exclusive interview all about Henry. Whether Billy and big Tino will be involved is something to keep an eye out on, as they certainly did make a difference in our draw to Leicester the other week.
Predicted Lineup: Ziger, Lawrence, Simeu, Colwill, Sterling, Bate, McEachran, Livramento, Ballo, Soonsup-Bell, Vale.
Written by Paree