Yesterday still hurts. Badly. The raw emotions are still there, and there's a good chance in 3 months time I'll look back at this article and say to myself "what the hell were you thinking?!?". Except, to be totally honest, I've been having these thoughts for a while but never really expressed them. In fact, I was in the middle of writing an article "Is Tuchel's way of playing right now sustainable'" before the result against Arsenal, and yesterday's loss in the FA Cup Final has only emphasised to me that the answer to that question perhaps could be no. This isn't going to be slander on specifically Tuchel because I think in the 3 months he's been here he's done incredibly in most areas. This is just more of a rant, where I'm going to be asking questions to the fans, players, staff, board – Chelsea Football Club.
Squad and Lineup vs Leicester
Before we get into it, I should say I do actually rate Tuchel and think he's been great these last few months. But, you can like Tuchel and at the same time question some of his bizarre decisions.
Tuchel had announced a few days before the game that Kepa would be starting the FA Cup Final. This was always going to be a 50/50 decision, and was one I completely disagreed with. Great, thanks to Kepa for helping us reach the final, but once you're in the final, I could not care any less. You play your best team in a final – it's very simple. But okay fine, that's always a tough one for the manager, and who knows there could even have been some pressure from the people above Thomas to play the Spanish goalkeeper.
But, if you're going to start your cup goalkeeper, surely you should start your cup midfielder in Billy Gilmour and your cup striker in Tammy Abraham, right? With the latter, I understand that Tuchel may not be a fan of the striker, but you HAVE to put him on the bench. He's literally our top goalscorer of the club and feels like he hasn't touched a football for months. 1-0 down, it would've been great to sub on Tammy who's known for scoring tapins and having great movement in the box, but instead we have to sub on Olivier Giroud who simply hinders the team's overall play as we end up just hoofing the ball up the pitch to then lose the second ball.
With the former in Gilmour, again I can understand he's a very young kid and you wouldn't want to put that pressure on him, but the hypocrisy was still shown in the game before when for some reason he was hooked at Half-Time against Arsenal for being one of the better players on the pitch, while Jorginho basically scored an own goal and somehow lasted the full 90. Yesterday, Jorginho once again struggled big time on the ball and off the ball, and we had to drop Mount deeper to try and get things ticking from midfield (something which Jorginho is meant to be good at).
He then for whatever reason drops Ben Chilwell to the bench and starts Marcos Alonso. As expected, Alonso plays terribly and I think Tuchel realised he made a huge mistake when subbing on Ben for Marcos quite early in the second half. The English wingback had a brilliant game from then on, getting in behind their defence, and could've scored two if it wasn't for some incredible goalkeeping by Leicester's *first choice* goalkeeper in Schmeicel (as well as obviously the heartbreaking disallowed goal). Once again, the deadwood gets played for absolutely no reason, and to no surprise they let us down.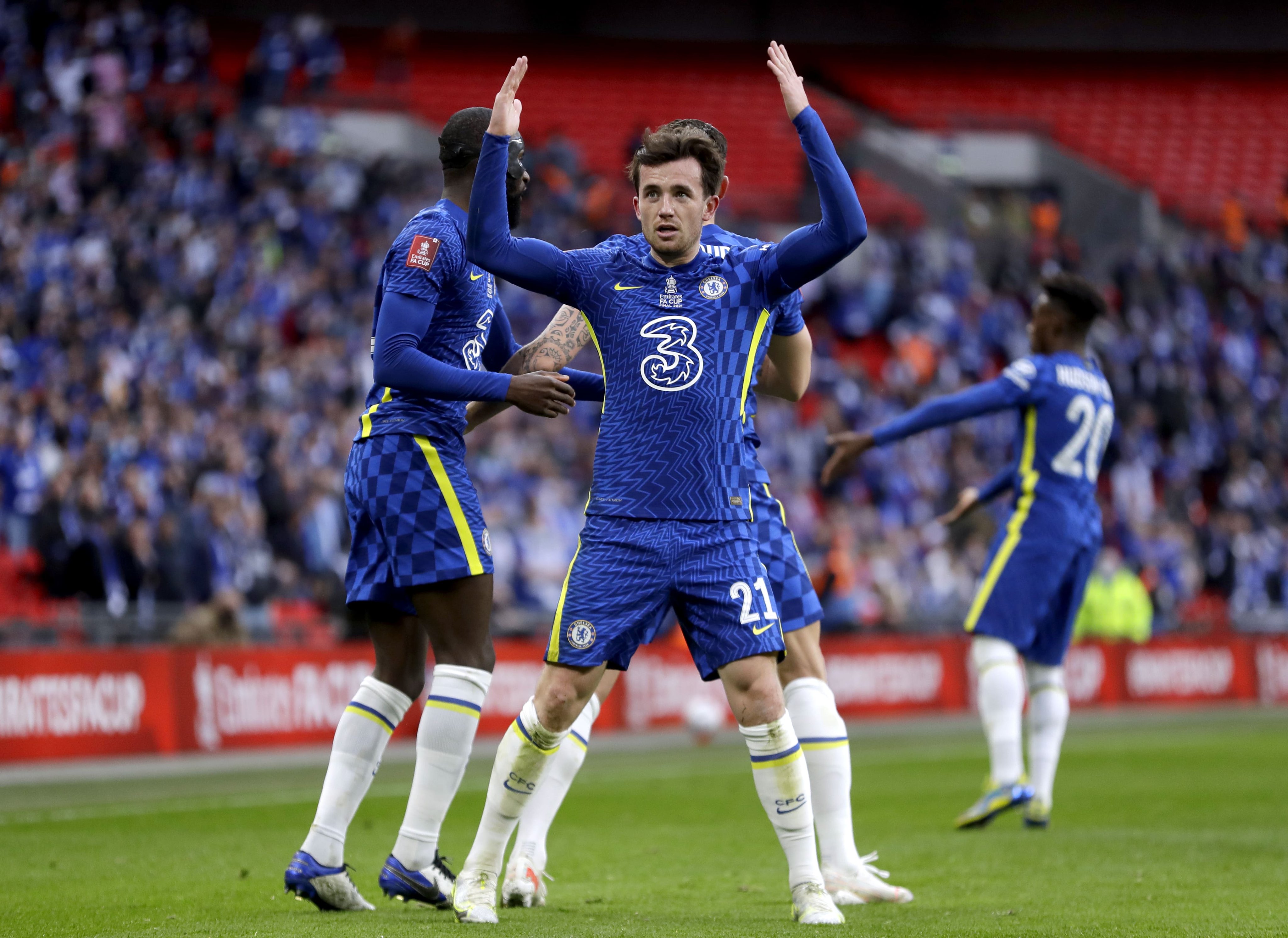 I don't think people had too many complaints with Ziyech and Werner starting, although I wasn't totally convinced when I saw the lineup. Leicester don't play that high of a line so Werner wasn't able to make any runs in behind, and for some reason he's starting to play Ziyech on the left hand side which just completely takes away any ability Hakim has. He's someone who has struggled in the new system due to it not being his position at all, so to put him on the complete other side of the pitch is just very bizarre. There was actually quite a lot of space between Leicester's midfield and defence, which Werner completely wasted. You'd think starting someone like Havertz instead who is able to drive forward with the ball would've been of much more use, and we know that Pulisic is such a big game player so him being on the bench was slightly shocking too.
Reece at RCB. Yes, he was at fault for the goal by giving the ball away, but a lot still had to be done after that and I thought otherwise he was exceptional, something which Tuchel also thought too. Considering it was his first time playing in that role under Tuchel, I thought he completely nullified Vardy brilliantly. Except, when you have Azpilicueta at RWB, it just doesn't make sense. It takes away any attack, so to be honest you only want to see Reece at centre-back if it's Callum at wingback, a position he shouldn't even be playing in the first case.
Mentality & Responsibility
I've seen some absolute nonsense on the timeline today talking about Mason losing 3/3 finals or similar stupid stats with James. Please just shut up. In fact, yesterday, they were two of our better players especially in the first half, and just think about last year's FA Cup Final vs Arsenal – huge improvements in performance can be seen from both academy boys in my opinion. They are literally 22 years old, and when they're starting in a final, they need help from the more experienced ones around them. Except there was none. Think about how mentally draining it must be for two very young football players to be the ones dragging around guys 5 years older than them each and every single week just because they're the ones who actually deep down care for the club.
Ziyech, who's played to the top level in the Champions League at Ajax, went completely missing yesterday. Werner, the striker who is meant to be scoring goals for us and is probably about two years away from his prime, was useless yesterday. Jorginho could barely pass the ball forwards and struggled defensively with 3 midfielders around him. Alonso, as we said before, was dreadful. Rudiger completely lost his head and couldn't stay calm as he started shooting from 40 yards out twice in the same game, something which Zouma did stupidly as well against Arsenal. I mean – what sort of example does this set to the guys who need to learn off them? Did they not learn from last season's loss in the final, or not want to react after losing to one of the worst Arsenal teams in history? We better see a reaction from the very first minute against Leicester and Manchester City or some fans aren't going to be happy…
I think it's clear to see we're lacking proper leaders in this squad. That's quite obvious. Since John Terry left the club, we've only won two trophies. Since Azpilicueta has been appointed full club captain, we've won 0. I love Dave, and he's a proper legend of the club, but there is a problem. I mean, he was literally smiling in the club interview afterwards, and when you compare that to Jorginho's interview where you could see he was almost in tears, you can see a huge difference. I don't want to make this about Rice all the time, but the same people who want a better mentality at the club for some reason don't want people like Declan at Chelsea…that makes no sense. Even Ethan Ampadu is a very vocal character and will happily step in with his words if he doesn't think something is right. We need leaders – and only now are people starting to realise the importance of 'passion' or 'effort' – pure talent isn't going to take you anywhere.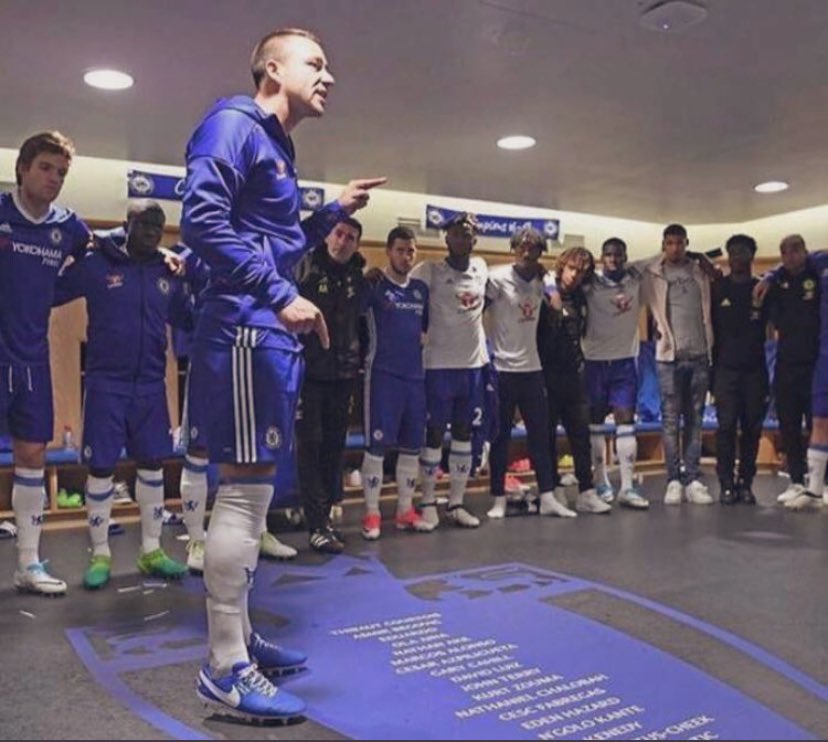 The mentality problem has been here for years. Jose Mourinho, Antonio Conte, Maurizio Sarri, Frank Lampard and I'm sure soon to come Thomas Tuchel have all complained about there being a problem. But, the weirdest part is, that the group of players have changed each time so it's not like there's one mole causing problems or anything. Because this club is so used to winning things, when things don't go their way, they throw the toys out of the pram. It's why we do quite well in cup competitions because there's that end goal in sight, whereas with the Premier League if we can't challenge for the title, then the players pretty much give up.
I think it will be very interesting to see what happens with Tuchel's time at the club. A LOT of our victories under him have been quite lucky in a sense that the performance for some of these games have never been that good, yet we still grinded out results. Now, I don't want to say his appointment had some sort of manager bounce, but I genuinely don't think the current way we are playing is sustainable. We don't create near enough as many chances as we should be with the attacking talent we have, and the players who struggled before are struggling again. I tweeted this and got quite a lot of smoke, but this system is hiding the weaknesses of Jorginho, Azpilicueta, Rudiger, Werner, Christensen etc. You can see the old Jorginho is slowly creeping in, Azpi doesn't look the same player as he was, Timo is still missing chances, Andreas made two huge blunders against Manchester City and Antonio losing his head is becoming more and more obvious. And then if we switch to four at the back, certain players are going to struggle big time. If this system of 3-4-3 gets found out, which at the moment it completely is, then these players are going to be in trouble. Which is why we need a change. Use the 4-3-3 for games where opposition teams are going to sit back, allowing us to have that extra attacker and dropping Mason Mount deeper. And then for the bigger games like Manchester City or Real Madrid or whatever, switch back to the 3-4-3 to be more sound defensively and rely on some magic up top. To me it seems simple.
This is more a sidenote, but I thought Tuchel's quotes after the game were embarassing too. It's almost as if the players have made him drop his standards in two weeks. He said that he wasn't angry, and that we were unlucky. That's just pure waffle, to be honest, and I hope he was a lot harsher in the dressing room than he was publically. And finally, was Frank wrong? Is this current group of players good enough to win the league and trophies consistently? I don't think so.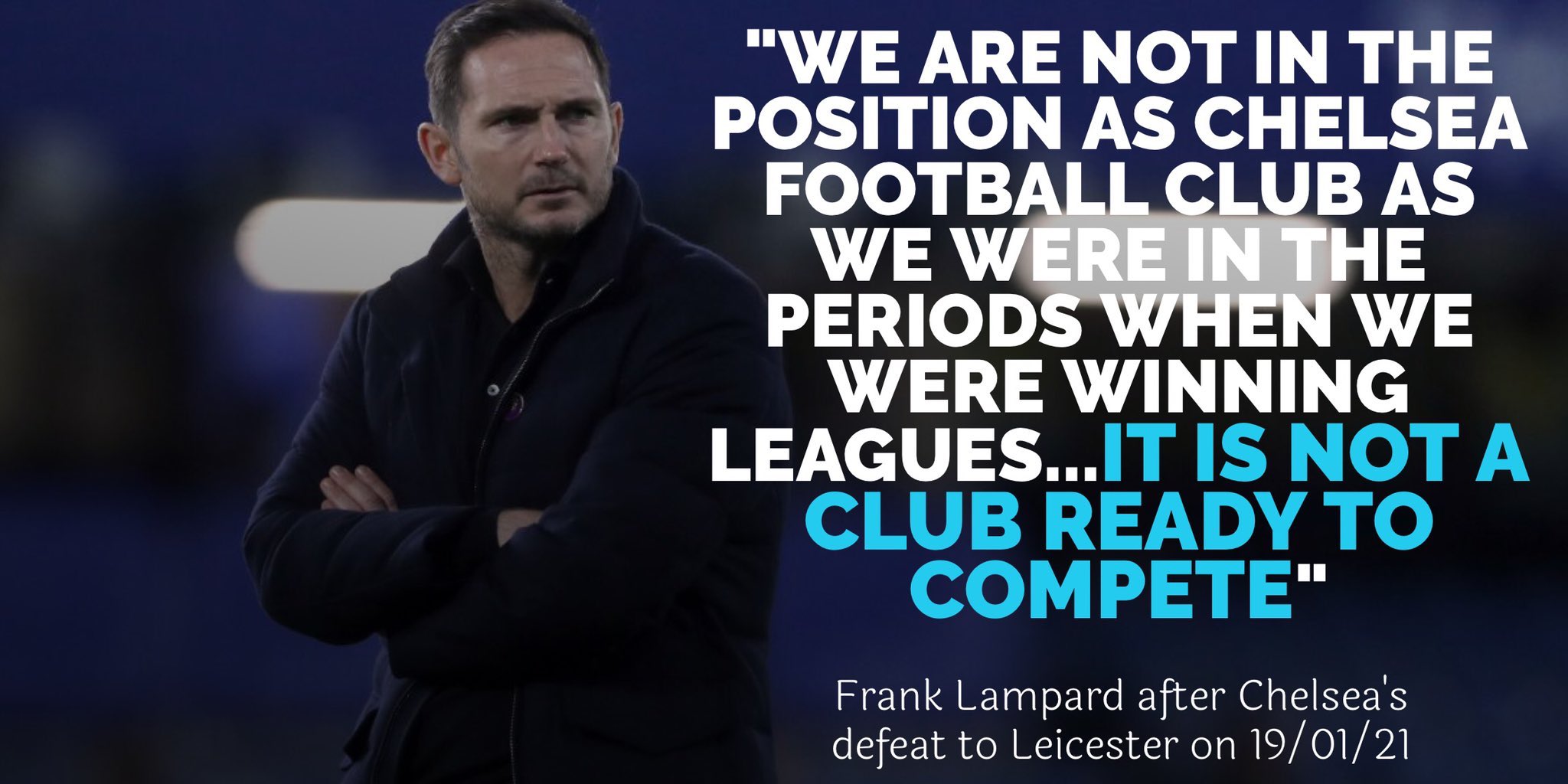 Problems
Even if we get top 4, which looks very tight at the moment, or we somewhow win the Champions League against Manchester City, I hope people don't forget all these problems we have at the moment. If we forget, and more importantly the board, then we're going to have the same problems of creating chances, scoring chances, having no midfield, no leaders and a lack of trust in certain players next season. And I can almost guarantee you that all of this will lead to Tuchel's sacking in about 12 months time.
There are solutions to these problems. Buy leaders, buy people who care for this club, buy a proper defensive midfielder, don't buy shiny new toys just for the sake of it, buy creators, stick with your manager. It may take time, and that's the problem because Chelsea seem to think there is no time. There's that slight worry that we're turning into the new Arsenal or Spurs by bottling so many trophies, although you'd hope that Roman Abramovich would never let that happen. Let's see how these next few years go.
What did you think of this article? It's a harsh one but let me know what you think on our social media platforms on my personal account!
Written by Paree